The Project Management Professional (PMP) Exam provides an evaluative measure to assess a project manager's knowledge and experience in the field, as well as their ability to manage projects successfully.
This article will analyze recent changes made to the PMP Exam, including modifications to the examination, exam content outline its current exam pattern, duration, and break times.
The PMP certification exam is updated roughly once every 4 years. As of 2023, there are no further changes to old exam since the 2021 updates.
If you want to pass your PMP exam in as little as 2 weeks, get started with our free training here.
About the PMP Exam
The PMP (Project Management Professional) exam is a computer-based test that consists of 180 multiple-choice questions. These questions are designed to assess a project manager candidate's knowledge and understanding of project management concepts, principles, and best practices. The exam is based on the PMBOK (Project Management Body of Knowledge) guide, which is a globally recognized standard for project management.
The structure of the PMP exam includes the following key elements:
Time Limit: The PMP exam has a time limit of 230 minutes (3 hours and 50 minutes) to complete all 180 questions. The total time you have for the exam is 4 hours and 10 minutes when factoring in the two 10 minutes breaks that you have.
Domains and Weightage: The exam is organized into three domains, namely People, Process, and Business Environment, which collectively cover the various aspects of project management. These domains have specific weightages in the exam, with the People domain accounting for 42% of the questions, the Process domain accounting for 50% of the questions, and the Business Environment domain accounting for 8% of the questions.
Question Types: The PMP exam consists of multiple-choice questions, where candidates are presented with four options and must choose the best answer among them. Some questions may also include scenario-based or situational questions, where candidates are required to analyze a given scenario and apply their project management knowledge to select the most appropriate response.
Scoring: Each question in the PMP exam is scored independently, and there is no negative marking for incorrect answers. The passing score for the PMP exam is determined by the PMI (Project Management Institute) and is not disclosed to candidates. However, it is generally believed to be around 61% to 65% of the total questions answered correctly.
Breaks: As mentioned earlier, candidates are allowed to take a single optional break during the exam, but the exam clock continues to run during breaks. The time taken for breaks is included in the overall allotted exam time, so candidates need to manage their time carefully.
Exam Administration: The PMP exam is administered by the PMI and can be taken at a designated Pearson Vue testing center or as an online proctored exam from the comfort of the candidate's own location, subject to specific eligibility requirements and technical specifications.
What Changed In PMP Exam Content?
One major change to the exam is that the number of test questions decreased from 200 to 180 questions. This means that there is more time per question.
New Question Types
However, instead of strictly multiple choice questions, on the new exam, you can expect to see drag and drop, hot spot, and multiple response questions as well.
The PMP Exam has been restructured with several new question formats such as drag-and-drop questions, limited fill-in-the-blank, multiple response questions, and interactive matching items sets.
These have increased the complexity of the exam while also creating more opportunities for candidates to demonstrate their understanding of project management concepts.
Here are some of the new question types look like: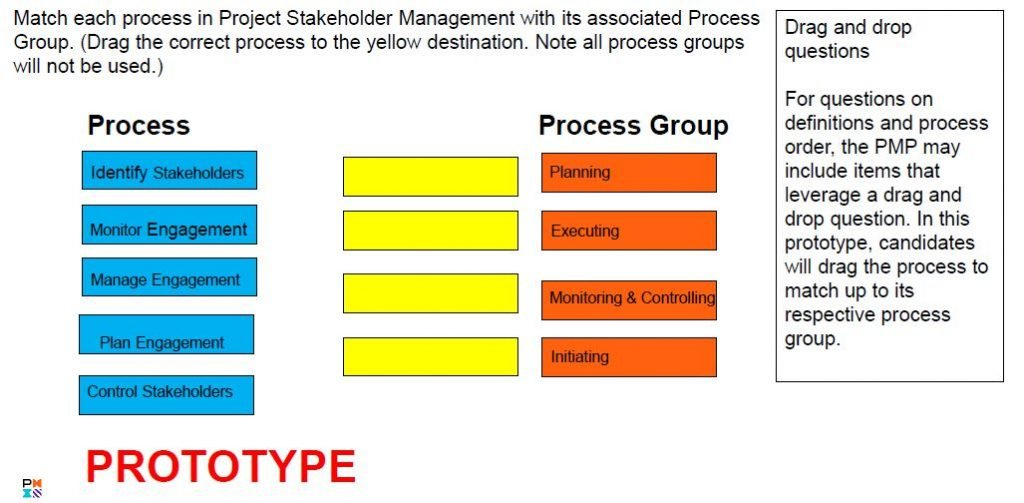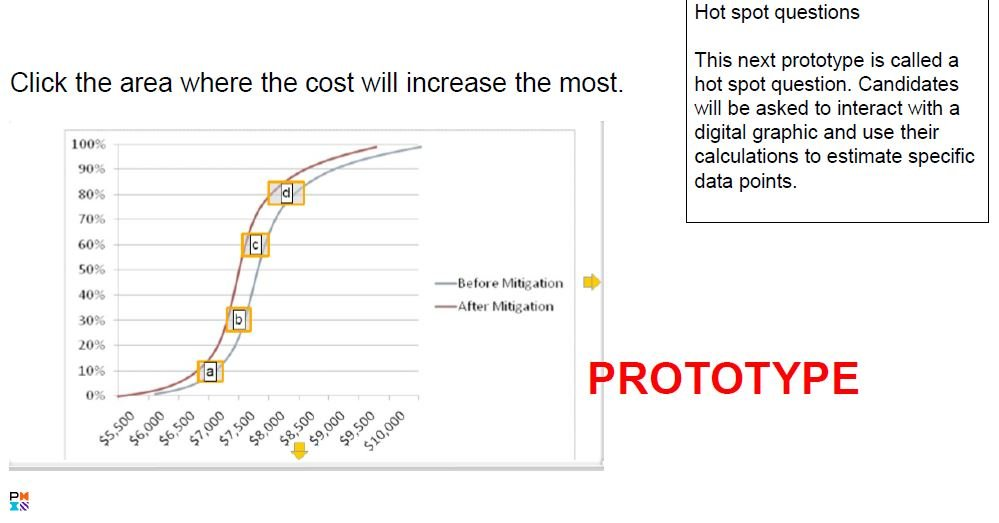 Alignment to Exam Content Outline
In addition, the new, exam content part is no longer scored against the 5 process groups in the PMBOK guide. In its place, you have the 3 domains from the PMP exam content outline: people, process, and external business environment.
You'll also find that 50% of the exam will be on agile methodologies and the other 50% will be on predictive/waterfall methodologies.
Breaks
Prior to the changes, you can take a break whether you want during your PMP exam, however, any time that you take as a break, would count towards your exam time.
With the new changes, you get two scheduled breaks during the course of your exam. You can take a break after you've answered 60 questions. You will not be able to modify your answers to the questions you've answered prior to the break.
New PMP Exam Content Outline
The content outline consists of three domains, which are as follows:
People: This domain focuses on the knowledge and skills required to effectively manage people and teams within a project. It includes topics such as team dynamics, leadership, conflict management, and communication.
Process: This domain covers the knowledge and skills related to project management processes, including initiating, planning, executing, monitoring and controlling, and closing projects. It includes topics such as project integration management, scope management, schedule management, cost management, quality management, resource management, communications management, risk management, and procurement management.
Business Environment: This domain encompasses the knowledge and skills needed to understand and adapt to the business environment in which projects operate. It includes topics such as organizational culture and structure, governance, project management office (PMO), project finance, project compliance, social and cultural considerations, and legal and ethical considerations.
These three domains collectively cover the various aspects of project management, including the people, processes, and business environment, and serve as the foundation for the PMP certification exam.
Differences Between PMBOK 6th and 7th Edition
The PMBOK is periodically updated to reflect changes in the project management field and to ensure that it remains relevant and aligned with the evolving needs of project managers. Two of the most recent editions of PMBOK are the 6th and 7th editions. Below is a comparison of the key differences between these two editions:
Structure and Approach: One of the major differences between the PMBOK 6th and 7th editions is the structure and approach. The PMBOK 6th edition follows a process-based approach, organizing knowledge areas around the traditional project management process groups (Initiating, Planning, Executing, Monitoring and Controlling, and Closing). In contrast, the PMBOK 7th edition adopts a more principles-based approach, focusing on twelve principles that are intended to be universally applicable across all project environments. This shift in approach reflects PMI's recognition of the need for project managers to be adaptable and agile in today's dynamic project management landscape.
Knowledge Areas: The PMBOK 6th edition has ten knowledge areas, including Project Integration Management, Project Scope Management, Project Schedule Management, Project Cost Management, Project Quality Management, Project Resource Management, Project Communications Management, Project Risk Management, Project Procurement Management, and Project Stakeholder Management. On the other hand, the PMBOK 7th edition consolidates the knowledge areas into just three domains, which are People, Process, and Business Environment. This simplification aims to provide a more holistic view of project management, emphasizing the importance of people and the business environment in addition to processes.
Inclusion of Agile: The PMBOK 7th edition recognizes the growing prevalence and importance of Agile methodologies in project management. It includes a dedicated section on Agile and Iterative practices, acknowledging the increasing adoption of Agile approaches in various industries. This reflects the changing landscape of project management, with Agile methodologies gaining traction due to their flexibility and adaptability in fast-paced environments.
Emphasis on Leadership and Soft Skills: The PMBOK 7th edition places a greater emphasis on leadership and soft skills compared to the PMBOK 6th edition. The People domain in the PMBOK 7th edition highlights the importance of leadership, team dynamics, communication, and conflict management, recognizing that effective project management goes beyond technical knowledge and requires strong people skills.
Inclusion of Tailoring Considerations: The PMBOK 7th edition introduces the concept of tailoring considerations, emphasizing the need for project managers to tailor their approaches based on the unique characteristics of their projects. It encourages project managers to consider various factors such as the size, complexity, industry, and organizational culture of the project when applying project management principles, further emphasizing the need for adaptability and flexibility.
Focus on Value Delivery: The PMBOK 7th edition places a stronger emphasis on value delivery, aligning with the broader trend in project management towards delivering value to stakeholders. It emphasizes the importance of defining, delivering, and measuring value throughout the project lifecycle, with a focus on outcomes and benefits realization.
What Should I Know About The Updated Exam Duration?
The updated PMP exam has changed its duration from four hours to four hours and 10 minutes. This change is meant to take into account the newly introduced scheduled breaks.
Time management during the PMP Examination will be critical in order to ensure an optimal performance on the assessment.
In addition to understanding how long each section takes, candidates should also become acquainted with their own pace when answering exam questions as well as other test-taking strategies that have been proven successful by previous examinees.
For instance, some people prefer reading through all the exam questions together first before attempting any answers while others opt for tackling them sequentially or skipping around; whichever best suits one's individual style and comfort level should be followed.
It is equally essential to factor in extra minutes for breaks between each section of the PMP Exam since these moments are helpful in refreshing oneself mentally and physically after exerting a lot of effort into studying for the assessment prior to taking it.
What Is The Best Way To Prepare For The PMP Exam?
Preparing for the PMP (Project Management Professional) exam requires careful planning and diligent study. Here are some best practices for effective PMP exam preparation:
Familiarize yourself with the PMBOK Guide: The PMBOK Guide is the primary reference for the PMP exam, and it's essential to thoroughly understand its content. Read through the guide multiple times, focusing on the key concepts, processes, and best practices outlined in each knowledge area.
Understand the Exam Content Outline: The PMP exam is based on a specific Exam Content Outline, which outlines the domains, tasks, and knowledge areas covered in the exam. Familiarize yourself with the outline and align your study materials and preparation accordingly.
Utilize Reliable Study Resources: Invest in high-quality study resources, such as PMP exam prep books, online courses, practice exams, and study guides from reputable sources. These resources will provide you with a comprehensive understanding of the exam content and help you practice answering different types of questions.
Create a Study Plan: Develop a study plan that outlines your goals, study materials, and timelines. Be realistic with your study schedule and allocate sufficient time for each knowledge area. Regularly review your progress and make adjustments to your study plan as needed.
Practice with Mock Exams: Take practice exams to assess your knowledge and identify areas that need improvement. Mock exams will help you get familiar with the exam format, timing, and types of questions. Analyze your results to identify weak areas and focus on improving them.
Review Your Work Experience: The PMP exam is not solely based on theoretical knowledge but also on practical application. Review your work experience and relate it to the PMBOK Guide concepts to strengthen your understanding of how project management concepts are applied in real-world scenarios.
Participate in Study Groups or Forums: Join study groups or online forums to connect with other PMP aspirants and exchange knowledge and insights. Discussing concepts and solving practice questions together can provide additional perspectives and enhance your understanding.
Stay Organized and Manage Your Time: Keep track of your study progress, review notes regularly, and manage your time effectively. Avoid last-minute cramming and instead maintain a consistent study routine over an extended period to ensure comprehensive preparation.
Take Care of Yourself: Preparing for the PMP exam can be demanding, so remember to take care of your physical and mental health. Get enough sleep, exercise, and eat well to maintain your energy levels and stay focused.
Stay Confident and Positive: Believe in yourself and your preparation. Stay positive, manage exam anxiety, and approach the exam with confidence. You've put in the effort, and you're well-prepared!
Frequently Asked Questions
What Is The Cost To Take The PMP Exam?
The current fee for the PMP exam is $555 USD for members of Project Management Institute (PMI) and $405 USD for non-members. Fees are subject to change without notice, so it's best to contact your local PMI chapter for the most up-to-date pricing information.
How Often Is The PMP Exam Updated?
The PMP exam is updated roughly once every 3-4 years to reflect the changes happening in industry. PMI is the certification and management body of knowledge is responsible for the updates.
How Many Questions Are On The PMP Certification Exam?
There are 180 questions on the PMP certification exam.
The exam is designed to assess whether candidates possess the skills and experience required to be an effective leader in this field.
How Long Is The Duration Of The PMP Exam?
This exam is 4 hours and 10 minutes long. This time frame includes 2 scheduled breaks.
Conclusion
The latest PMP exam focuses on predictive agile and hybrid methodologies. The PMP exam changed in 2021, and as of 2023, there are no further changes.
The examination content outline has been significantly modified, and the current PMP exam is based on the PMBOK seventh edition.
To get started and pass your PMP exam on your first try, please start by going through our free training here!